Rolls-Royce is one of the TechxFest exhibitors. We spoke to the outreach team to learn more about the range of opportunities they offer for school leavers in technical roles.
Rolls-Royce pioneers cutting-edge technologies that deliver clean, safe and competitive solutions to meet our planet's vital power needs. Join us and you could be making air travel more sustainable with highly efficient aero engines, developing products that power all-electric aircrafts, or helping to pioneer power solutions for space exploration.
As an apprentice you'll contribute to our ground-breaking work. You can expect all the training and qualifications you need to get your ideas noticed, and the support to develop your skills and knowledge.
Whether you're a school leaver or a career changer, you'll help shape the future – and be welcomed into a friendly, inclusive environment where you can be yourself and at your best.
Everyone is unique, so every Rolls-Royce journey is different too. We'll help you to find your way and discover your potential. Your unique personality, passion, and sense of purpose makes us who we are and a place where everyone belongs. And anything is possible.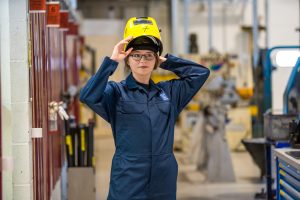 Be you. Be Rolls-Royce.
Our apprenticeships span the breadth of engineering and business and offer the chance to gain practical experience, in-depth training and professional qualifications, all while earning a salary.
Our advanced engineering apprenticeships are for those who have, or are about to complete, GCSEs or equivalent qualifications.
• They focus on developing the knowledge and skills for hands- on roles such as Fitters, Inspectors, Welders, Machinists, as well as in Maintenance, Electrical and Mechanical.
If you're studying for, or have completed, A-levels or an equivalent qualification, we've got a wide range of higher and degree apprenticeships.
• In Engineering and Technology, our degree apprenticeships include Engineering, Electrical and Electronics, Engineering, Materials Engineering, Nuclear Engineering, Non-Destructive Testing Engineering, Manufacturing Engineering.
• Across Business and Enterprise, we have degree and professional apprenticeships in Business Management, Commercial, Digital and IT Solutions, Finance, Marketing and Digital, Project Management, and Supply Chain Management.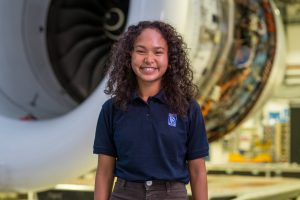 Earn as you learn

Whichever programme you join, you'll be working on live projects while working towards debt-free qualifications. You'll get classroom training as well as on-the-job experience, working alongside technical or business experts.
Image credits: Rolls-Royce